THIS OTHER WAY OF KNOWING, book 2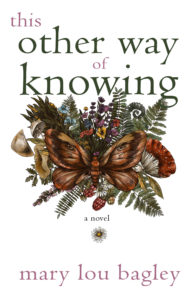 Disparate elements draw Margaret Meader into an ever-expanding mystery in book two of the series. As the wheel of the year turns, October brings an early snowfall. When a body is found in the snow, Margaret works with Detective Jay Horner and his enigmatic partner, Cynthia Green, to help solve the murder. Her visions and dreams offer images, messages, and sudden insights–some more confusing than helpful. When the harsh light of media attention focuses on her and "this other way of knowing," Margaret revisits the pain of rejection that darkened much of her early life. In deciphering the echoes from her past, she finds succor in the many circles of connection woven into her present. 
A violent death. A flamboyant pretender. An elusive hermit. A stolen baby. A network of shadows. A circle of sisters.
 OTHER WISE, a novel (new cover)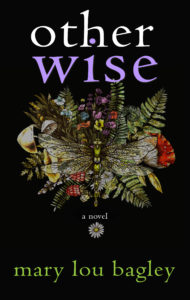 First in a series, Other Wise introduces a cast of characters who will find their way into your dreams and beyond. Sixty-two-year-old Margaret Meader is a native Mainer and an outsider. Though not "from away," many in her community deem Margaret an oddity—an other. Plain-spoken and direct, she is gifted with second sight—an intuitive ability to see beyond ordinary perception and distill what is seen to its practical essence. For decades her gift has benefited many while frightening others, often making her a target for jealousy, suspicion, and hatred. 
Margaret encourages young Emily Donne to recover abandoned gifts of her own, deal with the mystery that is her mother, and adjust to an onslaught of challenges. But even as Margaret guides Emily, supports friends and neighbors, and helps find those who are lost, some old business is coming back around, setting the stage for confrontations rooted in tragedies of the past.
Mary Lou Bagley is available for readings/book group discussions/workshops/retreats, etc.
Discussion Questions – Other Wise
 SUMMER STORIES, "Knowing When"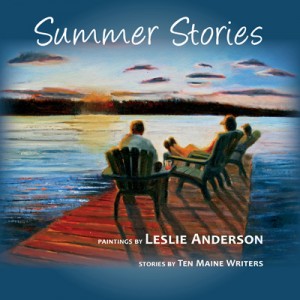 It began as an invitation. The Maine Writers and Publishers Alliance in collaboration with Shanti Arts Publishing asked Maine authors to submit stories written in response to a specific series of paintings by Maine artist, Leslie Anderson.
Writing in response to a work of art is called "ekphrasis."  Responses may be written from the perspective of the artist, a viewer of the artwork, a critic, someone or something in the artwork, etc.
The resulting stories (including "Knowing When") selected by award winning Maine author Ron Currie, Jr. make for a fascinating book which includes all of the paintings in the series.  For more information and to purchase Summer Stories.
OUT OF THE DARK, 4 short stories
NOW AVAILABLE ON CD! $12 with free shipping.
To order a copy, contact Mary Lou by email.
OUT OF THE DARK is a collection of four short stories written and read by Mary Lou. "Need Deep," "Circle of Least Confusion," "The Virginia Grace," and "Beyond the Pale," are beautifully wrought stories of four separate journeys through the darkness of disconnection, dislocation, and loss. The listener is drawn into each story, rich in sensory imagery, by Mary Lou's warm, expressive voice.
Connective threads running through all four include: a reliance on a deep inner source; the discovery of gifts illuminated by the very darkness in which they lay; and, an underlying belief in the resilience of the human spirit. From Nana and her healing dolls to a circle of "imaginary" ladies, the voices of these characters linger long after the stories end — such is the resonance to be found herein…
"They spring from need and not from want or wish, Sweet Pea."
— from "Need Deep"
Everyone calls me Crazy Caroline. …
— from "Circle of Least Confusion"
… there I sat in shocked silence, choosing not to tell Aunt Virginia Grace that I was home.
— from "The Virginia Grace"
Nancy was a virgin in matters of color…
But that was before Angelique introduced her to fire.
— from "Beyond The Pale"
Produced by William Dufris of Mind's Eye Productions
Copyright 2005 by Mary Lou Hamilton Bagley
ISBN 0-9774086-0-4
TWIN FARMS ANTHOLOGY
Mary Lou is featured in the 2007 Twin Farms Anthology with her short story, "Turnabout".
To order a copy, contact Mary Lou or visit the Triple Tulip Press website.